If your proportioner is a variable ratio model, loosen the adjustment locking knob (A) and turn the concentration adjustment knob (B) to the maximum setting (Position 10)
If your proportioner is a fixed water to chemical ratio model (no concentrate adjustment mechanism), disregard step 1 (note picture #2).
Check all connections and fittings for proper tightness and turn on the water to the machine.

NOTE: THE PLASTIC FITTINGS ON THE PROPORTIONER ONLY NEED TO BE TIGHTENED BY HAND FOR PROPER SEALING.
As water flows through the water motor of the proportioner, the actuating arm and piston at the rear of the proportioner will move back and forth. This shaft operates the chemical pump piston. The concentrate will start rising up the suction tube.
Once the product leaving the chemical pump reaches the main water stream, a 3-5 gallon sample can be taken of the mixture for a concentration test (either titration, volumetrically, or with a refractometer).

If a variable ratio unit, you may adjust the concentration knob as needed to give the desired product-to-water ratio. The numbers on the graduated guide are reference marks only, and do not represent any particular ratio. The #10 is the strongest concentration and the #0 is the weakest. When the proper ratio is reached, tighten the adjustment locking knob. Finger tight is sufficient.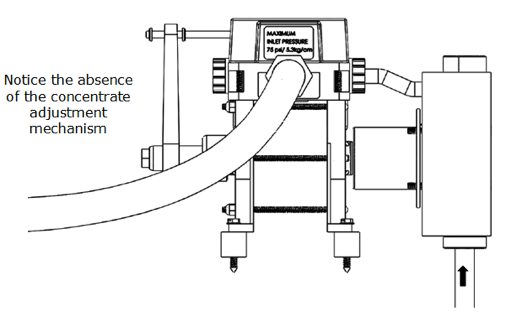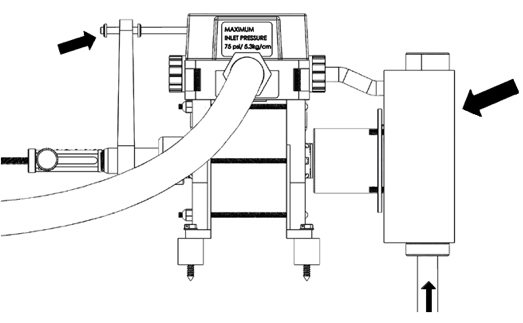 The proportioner must be installed in compliance with all local plumbing codes. The proportioner water feed line must be isolated because chemical back flow through the proportioner is possible. An approved back flow preventer must be installed upstream from the proportioner to prevent possible chemical contamination of the water supply.